Archive | August 6, 2014
With the college football season 3 weeks away, I figured I'd give my EXPERT opinion on this upcoming season. And since this a Southern Based Blog and I'm a UGA guy, I'm going to provide my predictions on how each SEC teams season will go. First two teams I'm going with are gonna suck. Again. I know each team thinks they'll be good but the honest truth is, if you finish in last place you suck. Sure you may be better than last year and the future may look "bright" but fuck that, this is now and you will finish in last place.
7th in the East: KENTUCKY WILDCATS
Surprise Surprise. Kentucky and Vandy have always be at the bottom of the SEC East and Vandy has made improvements. Kentucky on the other hand hasn't. They snagged a couple huge recruits who are freshman now, one being the Big Motherfucker below. Holy shit he's a monster!! Kentucky should win their 3 cupcake games and maybe a Vandy, Miss State, or Mizzou. Sure they may have an upset of another team that would be their "game of the season", but I'm not seeing it this year. $25 Aaron!!
PREDICTION: 4-8 (1-7 in SEC)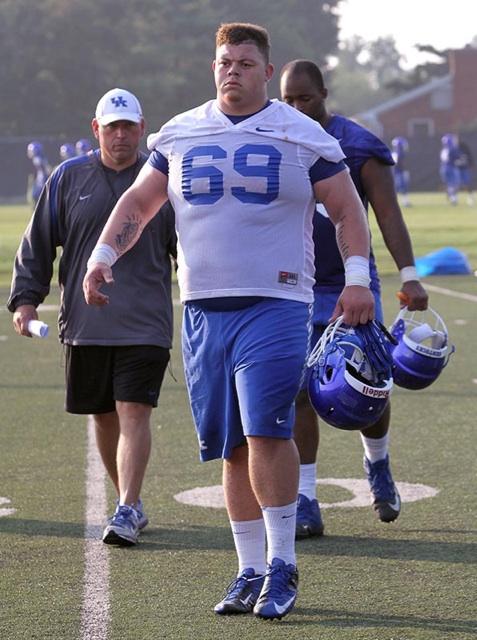 7th in the West: ARKANSAS RAZORBACKS
Ar Kansas went 0-8 last season and I don't seeing it getting a whole lot better this season. But hell, can only get better right? And I hate Bret Bielema. He's a douche. Bitching about the speed of the game and shit, shut the fuck up. I see Ar Kansas kicking his ass to the BIG 10 or worse after this season. They do have a stud RB in Collins but he can't carry that load of hog shit. (See what I did there? Hog Shit…Dog Shit?) Oh and how did Bret Bielema convince this chick to marry him? A couple mil and roofies on their wedding day? At least he's winning at something. Sorry Hog fans, my crystal "8 Ball" shows another tough season and the future don't look so bright either.
PREDICTION: 4-8 (1-7 in SEC)
A woman caught stealing at a DeLand, Florida Walmart handed the merchandise to the employees who stopped her…but then walked out, leaving her two small children behind! (Note: DeLand is the hometown of Chipper Jones).
According to the Daytona Beach News Journal, 26-year-old Rebecca Stoltz was arrested and charged with child abuse, neglect of a child and first-degree petty theft.
After refusing to cooperate with loss prevention officers, Stoltz handed over the $44 worth of stolen goods, and then left in a silver Nissan car without the children. A "friend" later stopped by and tried to pick up the kids, who were reportedly crying inside the store. Stoltz eventually returned and was arrested at the store.
On the bright side, at least she got a few hours of free daycare out of the deal.
Editor's Note: This post is written by a lifelong Falcons fan and will be biased. 
Summary:  The first episode began by featuring a series of players, almost all of whom are very insignificant, and the journeys they took to get to training camp. As predicted, Kroy Biermann and his whore "reality star" wife Kim Zolciak were filmed. Once everyone gets to camp, football begins, Steven Jackson makes a speech to the other running backs, and then promptly pulls his hammy. The narrator takes some time to introduce the coaching staff, Mr. Blank, and Thomas Dimitroff. Oklahoma drills, set to EDM music ensue. HBO then has a nice juxtaposition between William Moore and rookie Devonta Freeman by featuring Moore's gaudy Atlanta mansion next to footage of Freeman looking for a cheap-ass tiny apartment. The team plays a scrimmage at an Atlanta area high school on a Friday night; Matty, Roddy, and Julio all look good. Second Rounder Ra'Shede Hageman gets his ass kicked all scrimmage and looks out of shape. The episode ends with Smitty telling the team that "a lot of mistakes were made [during the scrimmage], but the effort was great."
Highlights: There are many fights during camp – Biermann takes his frustration out on first rounder Jake Matthews when he can't get around him during practice, Joe Hawley goes after rookie Jaques Smith. Smitty's reaction to Jackson's injury is priceless. Without saying so, he seems to be saying, "yep, that piece of shit is hurt again." New OL and DL coaches Mike Tice and Bryan Cox are intense. Roddy talks a lot of shit to Willy Mo during practice.
Surprises: Steven Jackson paints pictures. Matt Ryan drives a Benz. Mike Smith wears awful sandals (see pic above). 2009 First Round Pick Peria Jerry retires. Everyone is shocked. When asked by Mike Smith if he has a plan, Jerry responds, "I'm probably gonna just work, do something with my family. Imma figure it out." Great plan dude. Sounds like you've really thought this through.Your career was garbage.
Commentary: Just as I suspected, the Falcons are pretty boring and HBO tries pretty hard to make the team interesting. I love it. Can't wait for episode 2.