2014 SEC Predictions: Last Place Teams
With the college football season 3 weeks away, I figured I'd give my EXPERT opinion on this upcoming season. And since this a Southern Based Blog and I'm a UGA guy, I'm going to provide my predictions on how each SEC teams season will go. First two teams I'm going with are gonna suck. Again. I know each team thinks they'll be good but the honest truth is, if you finish in last place you suck. Sure you may be better than last year and the future may look "bright" but fuck that, this is now and you will finish in last place.
7th in the East: KENTUCKY WILDCATS
Surprise Surprise. Kentucky and Vandy have always be at the bottom of the SEC East and Vandy has made improvements. Kentucky on the other hand hasn't. They snagged a couple huge recruits who are freshman now, one being the Big Motherfucker below. Holy shit he's a monster!! Kentucky should win their 3 cupcake games and maybe a Vandy, Miss State, or Mizzou. Sure they may have an upset of another team that would be their "game of the season", but I'm not seeing it this year. $25 Aaron!!
PREDICTION: 4-8 (1-7 in SEC)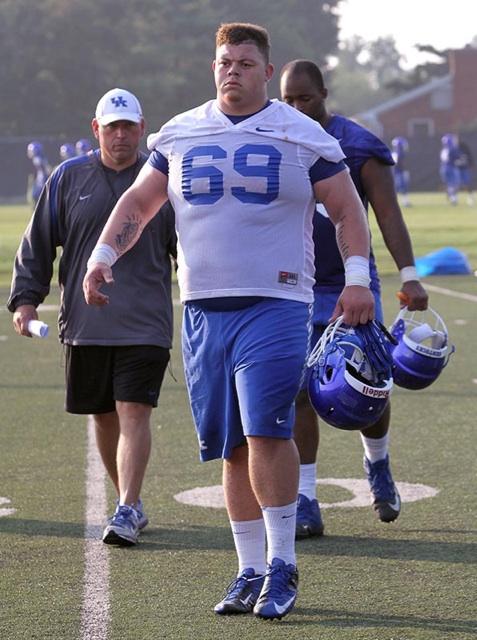 7th in the West: ARKANSAS RAZORBACKS
Ar Kansas went 0-8 last season and I don't seeing it getting a whole lot better this season. But hell, can only get better right? And I hate Bret Bielema. He's a douche. Bitching about the speed of the game and shit, shut the fuck up. I see Ar Kansas kicking his ass to the BIG 10 or worse after this season. They do have a stud RB in Collins but he can't carry that load of hog shit. (See what I did there? Hog Shit…Dog Shit?) Oh and how did Bret Bielema convince this chick to marry him? A couple mil and roofies on their wedding day? At least he's winning at something. Sorry Hog fans, my crystal "8 Ball" shows another tough season and the future don't look so bright either.
PREDICTION: 4-8 (1-7 in SEC)