Archive | August 15, 2014
2nd in the East: SOUTH CAROLINA GAMECOCKS
South Carolina, like a lot of teams in the SEC this year, lost some key players from a year ago. The Gamecocks are coming off a 11-2 season though. I think with QB Dylan Thompson having a good amount of SEC experience and one of the better RBs in a loaded SEC RB class, SC will have another really good season. The Ol' Ball Coach will have the Gamecocks ready to compete for and SEC East title run. The early season match up against UGA in Columbia will probably once again be the deciding factor on who will come out of the East. I think UGA has the upper hand with their skill position players especially with Heisman Candidate Todd "TG3" Gurley.
PREDICTION: 10-2 (6-2 in SEC)
2nd in the West: AUBURN TIGERS
The Auburn Tigers are coming off a hugely surprising 2013 Season. The Tigers had 2 Incredibly "Lucky" plays last season to put them in the National Championship game. But every team needs a little luck to make it into the Championship Game. I don't see Auburn being able to repeat their 2013 Championship run. With the "Iron Bowl" in Tuscaloosa and the "Deep South's Oldest Rivalry in Athens  this season, Alabama and Georgia will be out for some serious revenge. Nick Marshall will probably put up crazy numbers in Gus Malzahn's offense and could be a serious Heisman Contender. They will have to replace star RB Trey Mason but with the talent they recruit that shouldn't be terribly difficult. Auburn will have another really good season but I don't see them making it into the SEC Championship game this year.
PREDICTION: 10-2 (6-2 in SEC)
College Spun: Notre Dame's 2014 schedule, while difficult, does not feature any SEC opponents, unless of course the Irish face off against one in the postseason. That's a shame, because Irish running back Greg Bryant apparently has some beef with the entire conference and its scheduling policies. 
Bryant, a sophomore tailback who is returning from a knee injury that ended his season prematurely a year ago, took to Twitter earlier this week to boast about how tough Notre Dame's schedule will be in 2014. He also took a shot at the SEC.
Ok Simmer down now buddy. Not every team is without a conference and has to schedule all 12 games against random teams. I'd love to see the Irish have to face an SEC opponent nearly every week. Even teams like Vandy, who used to be a gimmie game, are tough matchups now. Notre Dame does play some powerhouses like Rice, Purdue, Syracuse, Navy, and Northwestern. I'd take the bottom 4 teams in the SEC (Kentucky, Arkansas, Miss. St, and Vandy) against those teams all day. The SEC has 6 teams in the top 12 of strength of schedule. Mainly because they have to face each other week in and week out. They deserve a game vs. Charleston Southern or UL Monroe. Come on Greg Bryant, I'm going to need you to play a full season of football before you start talking Shit. Oh and didn't UGA and Notre Dame just schedule home and home's? Yeah the SEC is real scared of competition. Maybe he should ask his Seniors how Alabama looked a couple years ago in the BCS National Championship Game. That was a fucking Blood Bath.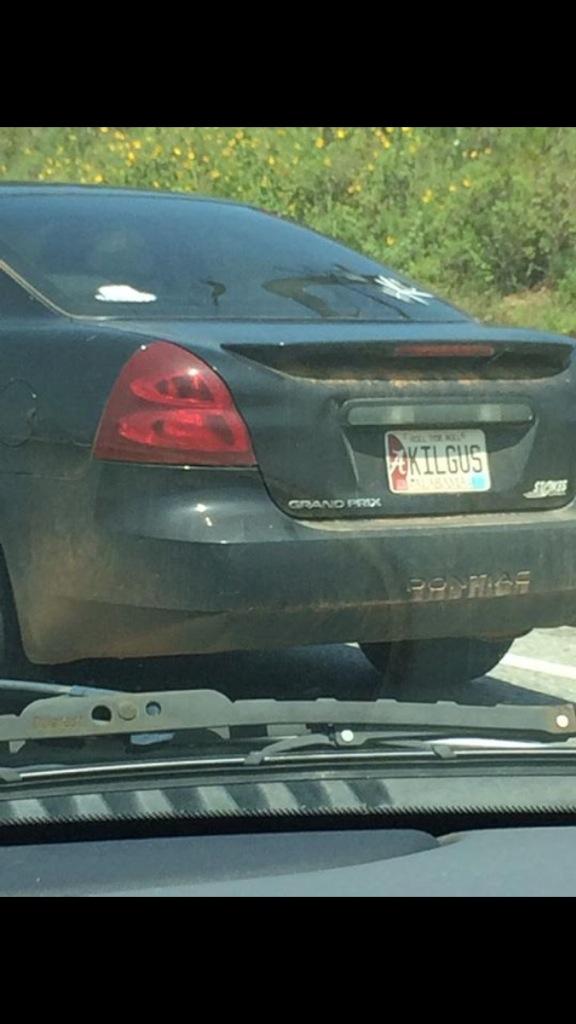 A Crazy Ass Alabama Fan is at it again. A Vanity plate that says "KILGUS". Holy shit, this person is fucking nuts. If I'm an Auburn fan with anything Auburn on my car, I'm staying clear of this psycho. Cut this guy off and he may cut your fucking head off. I mean its started with Harvey Updyke poisoning trees, now we have this loony threatening Gus Malzahn's life on a License Plate. Too Aggressive bro. Chill the fuck out.