Archive | July 17, 2014
If you've never heard of Dan Bilzerian, check out his Instagram account, If you have balls between your legs I'm guessing you followed him. This dude lives the life that every red blooded, steak eating, women loving, binge drinking man jerks off to. Which means he is nothing like any of us are, or ever will be. The text above with his PR agent solidifies himself as one of the baddest, most Boss motherfucking dudes on earth.
Ok so I'm a few days behind on my Media Day coverage. But believe it or not I have a real job and this is for fun. Oh that and I'm still recovering from a weekend at the lake. Anyways… SEC Media Days wrapped up this afternoon after 4 days. Auburn, Florida, and Vandy were on the schedule for Day 1 at the SEC Media Days in Hoover, Alabama. First of all who the fuck picked Hoover, Alabama? I don't care if its a central location, who the hell wants to go a suburb of Birmingham for a week? Hell, go 3-4 hour south you can be on the beach. What the  fuck ever though… Day 1 kicked off with the Defending SEC Champs and National Championship Runners Up Auburn Tigers, 2013 Underachieving Florida Gators, and the Vanderbilt Commodores with 1st time Head Coach Derek Mason.
AUBURN TIGERS
The big news for the Tigers wasn't about their shocking 2013, it was about their starting QB, Nick Marshall, getting busted days before for possession of that Sweet Sweet Cheeba. Head Coach Gus Malzahn made the decision to leave Marshall at home. The only decision really. Those sharks called "Media" in Hoover would've eaten that kid alive. He's not to most eloquent kid either. The big question that Malzahn had to deal with was Marshall and his punishment for the opening game vs Arkansas.
The other big story is that star Sophomore DE Carl Lawson recently had surgery to repair an ACL tear which will more than likely cause him to miss the upcoming season. Lawson was the 2nd best DE prospect in the country coming out of high school and a budding star for the Weagles.
Bottom line is this is not how Gus Malzahn envisioned SEC Media day would go a month ago. I'm sure he thought it would be smooth sailing hand jobs from the media after completing his 1st season the way they did. Welcome to SEC Offseasons.
FLORIDA GATORS
Well I'm sure Will Muschamp is glad to back. After their loss to GA Southern last year there were a lot of Gator fans hoping he wouldn't be. This is Muschamp's last chance though. I'm guessing they'll need a 9-10 win season for him to be safe and I don't know if that's gonna happen but we'll see, its the SEC.
The biggest questions concerning the Gators at Media Days were around QB Jeff Driskel. Muschamp stated that their offense with Driskel at QB was much more efficient out of the Shotgun instead of under center. No shit right? Isn't every offense these days better out of the shotgun? The will also run a much faster paced offense as well with more hurry up and no huddles. With all the turnover in the SEC at QB from last season, Driskel is the Vet in the league. We'll see if he can be the player Florida fans hoped for out of high school 4 years ago, Will Muschamps job really depends on it.
VANDERBILT COMMODORES 
Vanderbilt Head Coach Derek Mason made his SEC Media Days debut. Mason, the former Standford DC, is actually the only new coach to the SEC this season. Previous head coach James Franklin did a great job at Vandy and brought them to places West End had never seen. The 2013 Commodores beat Georgia, Florida, and Tennessee. That's tough for any team in the SEC, let a lone a team that has been in the basement since it joined the league. So needless to say Derek Mason has his hands full. However, he is a high energy coach similar to James Franklin and won't let Vandy slip back into their old ways. They lost a lot of key players last year and Franklin took a lot with him in recruits so don't expect the quality wins they had last year but you also can't sleep on them anymore. And the man has Gold Plated Business Cards. That's a Boss Move.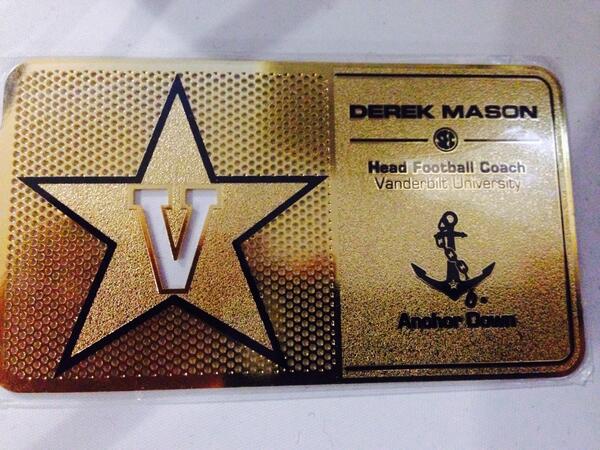 If you're anything like me, you probably can't stand Stuart Scott and his hip-hoppy, tacky, and generally torturous way of anchoring a sports desk. To me, Scott is almost as unlikeable as Chris Berman. 
Despite my obvious disdain for the way the man goes about his business, I certainly wouldn't wish cancer on anyone, and hope Scott can win this grueling war.
Last night at the ESPYs, instead of the typical booyahs and cool as the other side of the pillow wannabe gangster talk we usually get, Scott gave a fantastic, heartfelt, moving speech regarding his ongoing cancer battle.
See for yourself below.
If cancer has ever touched anyone in your life, you can undoubtedly empathize with Scott.