Lebron Taking His Talents BACK to Cleveland!!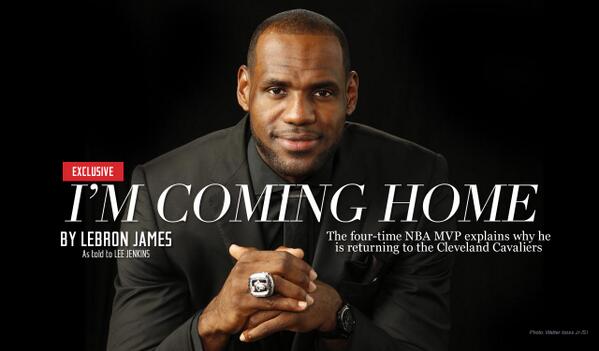 Well there ya go ladies and gentleman. The King will Return!!! The Chosen One, Lebron "King" James decides to right his wrong and go back to where it all started for him.  Almost 4 Years to the day, LBJ ditches South Beach to head back home. I fucking love it. Can't wait to see how empty Miami's American Airlines Arena will be next season. Sorry ass fair weather fans. Just like Harry says to Lloyd in Dumb and Dumber, "You go and do something like this… and TOTALLY REDEEM YOURSELF!!" I think this is a great decision for Lebron, not only PR wise, but also for basketball career. With him on the Cavs, it will automatically make them a contender next season. The Bulls will be right there in the East as will the Pacers. But Lebron with Kyrie, Andrew Wiggins, Tristan Thompson, Anderson Varajao, Dion Waiters, and Anthony Bennett(jury still out on him) is a stellar lineup. They also have 3 1st Round picks for 2015 to move if they want to bring in a Kevin Love. This team may have more potential to be a Dynasty than Miami.
PS. Lebron had to go back to Cleveland. If he would've fucked them again, forget about burning Jerseys, they would've burnt his fucking house down.