Archive | July 11, 2014
According to CBS Sports, Auburn quarterback Nick Marshall was "cited for possession of marijuana less than one ounce" earlier this afternoon in Reynolds, GA. I lived in Georgia for nearly 30 years and have no fucking clue where Reynolds is.
Marshall's vehicle was originally pulled over for a window tint violation, but the cop smelled pot and found residue in the car. Marshall was cited, though not arrested.
Auburn has not issued a statement regarding the incident. Marshall is scheduled to represent Auburn at SEC Media Days next week, and is considered an early Heisman candidate.
It remains to be seen whether or not this will hamper his 2014 campaign. Any SEC school not named Georgia doesn't seem to give a shit about weed, as Marshall already knows, having been dismissed from UGA in early 2012.
<a href=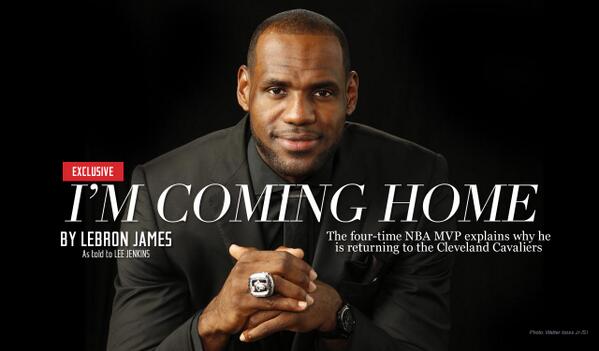 Well there ya go ladies and gentleman. The King will Return!!! The Chosen One, Lebron "King" James decides to right his wrong and go back to where it all started for him.  Almost 4 Years to the day, LBJ ditches South Beach to head back home. I fucking love it. Can't wait to see how empty Miami's American Airlines Arena will be next season. Sorry ass fair weather fans. Just like Harry says to Lloyd in Dumb and Dumber, "You go and do something like this… and TOTALLY REDEEM YOURSELF!!" I think this is a great decision for Lebron, not only PR wise, but also for basketball career. With him on the Cavs, it will automatically make them a contender next season. The Bulls will be right there in the East as will the Pacers. But Lebron with Kyrie, Andrew Wiggins, Tristan Thompson, Anderson Varajao, Dion Waiters, and Anthony Bennett(jury still out on him) is a stellar lineup. They also have 3 1st Round picks for 2015 to move if they want to bring in a Kevin Love. This team may have more potential to be a Dynasty than Miami.
PS. Lebron had to go back to Cleveland. If he would've fucked them again, forget about burning Jerseys, they would've burnt his fucking house down.